Join Link : Crypto Currency Boom Contest
Registration in the contest : from 13.04.2018 to 17.06.2018 (inclusively)
Holding of the contest : from 01.06.2018 to 22.06.2018 (inclusively)
Announcement of the contest results : by 02.07.2018
Contest : Crypto Currency Boom Contest from WForex .
How To Participate : In order to take part in the contest it is necessary to register on the company's site, fill in the personal data application form and proceed to the section "Contest" on the site. Being in the authorized status, confirm the participation and choose a contest account group. By registering to take part in the Contest, the Participant denotes his full consent with the present rules.
All Participants' contest accounts have the same start value of the balance by the moment of the contest starts– 10 000 US virtual dollars; leverage – 1:100.
Contest Prizes : The total prize fund is not limited!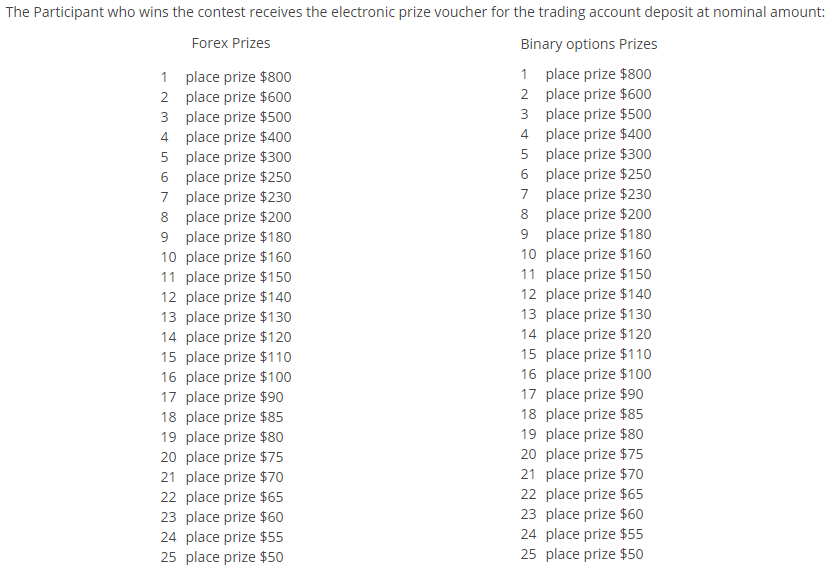 First 25 participants of Forex contest and 25 participants of Binary Options contest will share $10 000. The rest of traders will receive $10 bonus for taking part in the contest.
The prize table consists of 50 participants (25 to each contest accounts group). The prize fund amounts 10 000 USD that are proportionally shared among the contest accounts groups. This table displays prize sums, assuming that the contest accounts proportion equals 50/50 (%).
The Participants who take the prize place will receive a guaranteed prize voucher to deposit a trading account, at nominal amount defined in the prize winners' list. A prize voucher and instructions for its depositing will be provided by a help and support operator via telephone or sent to the e-mail address assigned to the contest Participant.  All registered participants of the contest receive 500 points due to the customer loyalty program World Forex Club .
Additional 500 points due to the loyalty program are not granted to the clients who have already received 500 points for participating in the previous contests.
The main condition for depositing a prize voucher is availability of the verified telephone number in the Participant's profile.
Withdraw :  Prize funds are available for trading but not for withdrawal. A Participant has the right to withdraw the profit resulting from the trading above the prize funds in any amount, provided that trading will be carried out on the following types of real accounts: W-CENT, W-PROFI, W-ECN. For the accounts of W-OPTION type the required condition for the money withdrawal is certain turnover on the account. The turnover can be calculated according to the following formula:
At withdrawal of the profit received resulting from trading a prize bonus, the Company is entitled to decline a request for withdrawal in the currency or via a payment system stated by a client, and offer withdrawal in other currency or via other payment system upon own discretion.
Bonus * 10 : For example: bonus amount is 10 USD, the turnover on all deals on Binary options shall add up to 100 USD (the amount of all investments).
---
More Info –
1. General terms and conditions apply.
2. Please ask their support for more information .
Please follow this link for more details about the rules : Terms and Conditions