Trade Forex, CFDs, Metals and other stuff securely with Fxchoice. Get a 15% bonus by depositing in BTC The bonus will be added to your account balance automatically and become available to trade or withdraw once the trading volume requirement is reached.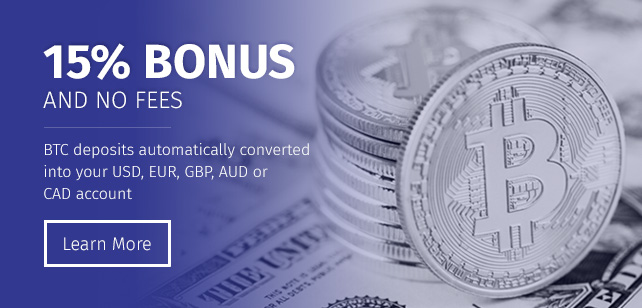 Bonus Link – FX Choice 15% Bonus for BTC Deposit 
Available to : All Clients .
End Date : Until December 31, 2020.
How To Get :
1. Register an account, If you don't have one already.
2. Pass the verification.
3. Make the minimum required deposit .
4. Request the bonus.
Withdrawal : To withdraw the Bonus from your account you need to meet turnover requirements* first (in amount of turnover units, each unit is equal to $100 000): <Bonus Sum> [USD] / 2 * <Volume Multiplier> = <Number of turnover units>

EXAMPLE: You receive $1 000 bonus. To withdraw the received bonus, you need to make $1 000 / 2 * 1.00 = 500 turnover units (equal to 50 million in terms of turnover**).
4. Once the original deposit is removed (withdrawn or transferred to a different account) completely or partially, the bonus is lost. The profit can be withdrawn without any limitations or restrictions.

EXAMPLE: You fund your trading account with $5 000 and receive a bonus of $750 (15%). Let's assume that after you receive the bonus, the profit of your closed trades totals $250. According to the conditions of the Bonus, you are not allowed to withdraw more than $250 (your Profit) in order to keep the bonus sum on your account.
Terms and Conditions
Only one Bonus will be issued per customer. The Bonus will be applied to every deposit where applicable.
The Bonus is equal to 15% of the sum you deposit to your trading account, but the total amount of the Bonus can't exceed 5 000 USD.
A maximum of USD 10 000 in Bonuses can be rewarded to a client in a one-month period, regardless of the amount they deposit.
The Bonus is written off the account once the equity of your account minus the Bonus is less than or equal to the stop out level***.
Once a bonus has been added to your trading account, you will have 90 days from this moment – to complete the volume requirements to reflect the change.
All bonus and incentive schemes are at the management's discretion.
Advertisement